Greetings, Imagehub customers! In this post, we'll tackle some of the common error codes that you might encounter with your Konica Minolta bizhub C224e photocopier. We'll also provide simple steps for troubleshooting these issues, aimed to keep your operations running smoothly.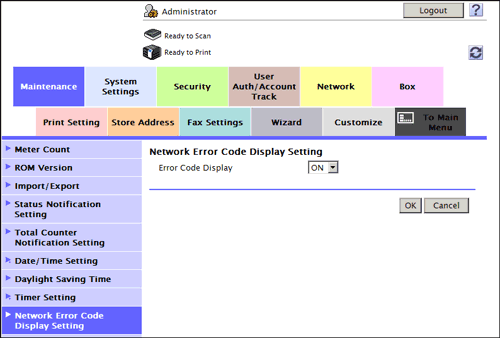 Error Code C0101: Scanner Home Position Error
If you encounter an error C0101, it's an indication of a scanner home position error. This usually means the scanner can't return to its starting position. Before calling for assistance, try turning off the machine, waiting a few minutes, and then turning it back on. If the error continues, it's best to reach out to a technician.
Error Code C0202: Tray 1 Lift Up Failure
Error C0202 suggests that the first paper tray is not lifting properly. This can often be resolved by checking for any paper jams or obstructions in the tray. If you find any, clear them out, and then restart the machine. If this error persists, it's time to contact a professional.
Error Code C0204: Tray 2 Lift Up Failure
Similar to the previous error, C0204 indicates a lift-up failure, but this time with the second paper tray. Following the same steps—checking for paper jams or obstructions, clearing them, and restarting the machine—can usually resolve this issue. Again, if the problem persists, don't hesitate to call for professional help.
Error Code C0214: Duplex Unit Motor Failure
If you see a C0214 error code, this points to a duplex unit motor failure. Restarting the photocopier might help resolve this issue, but if it continues, it would be best to reach out to a technician who can inspect the machine and make the necessary repairs.
Error Code C0210: Main Motor's Failure
Error C0210 is a sign that the main motor has failed. Try resetting the machine and see if the error clears. If not, you should get professional help as this might involve a complex repair.
Error Code C1101: Finisher Stapler Failure
Error code C1101 suggests a finisher stapler failure. Check the stapler for any visible issues or obstructions, clear if any, and restart the machine. If the error persists, it's time to call in a professional technician.
Remember, while some issues can be resolved with a simple restart, some errors indicate more serious problems that need professional attention. Don't attempt to repair complex issues on your own as it can lead to further damage.
If you're struggling with any errors not covered in this guide or need further assistance, please don't hesitate to reach out to us via our contact page. Our team of experienced technicians is always ready to assist you in Abu Dhabi and Al Ain, UAE.
We're here to ensure your office operations are as smooth as possible. Thank you for choosing Imagehub as your trusted office solutions partner!